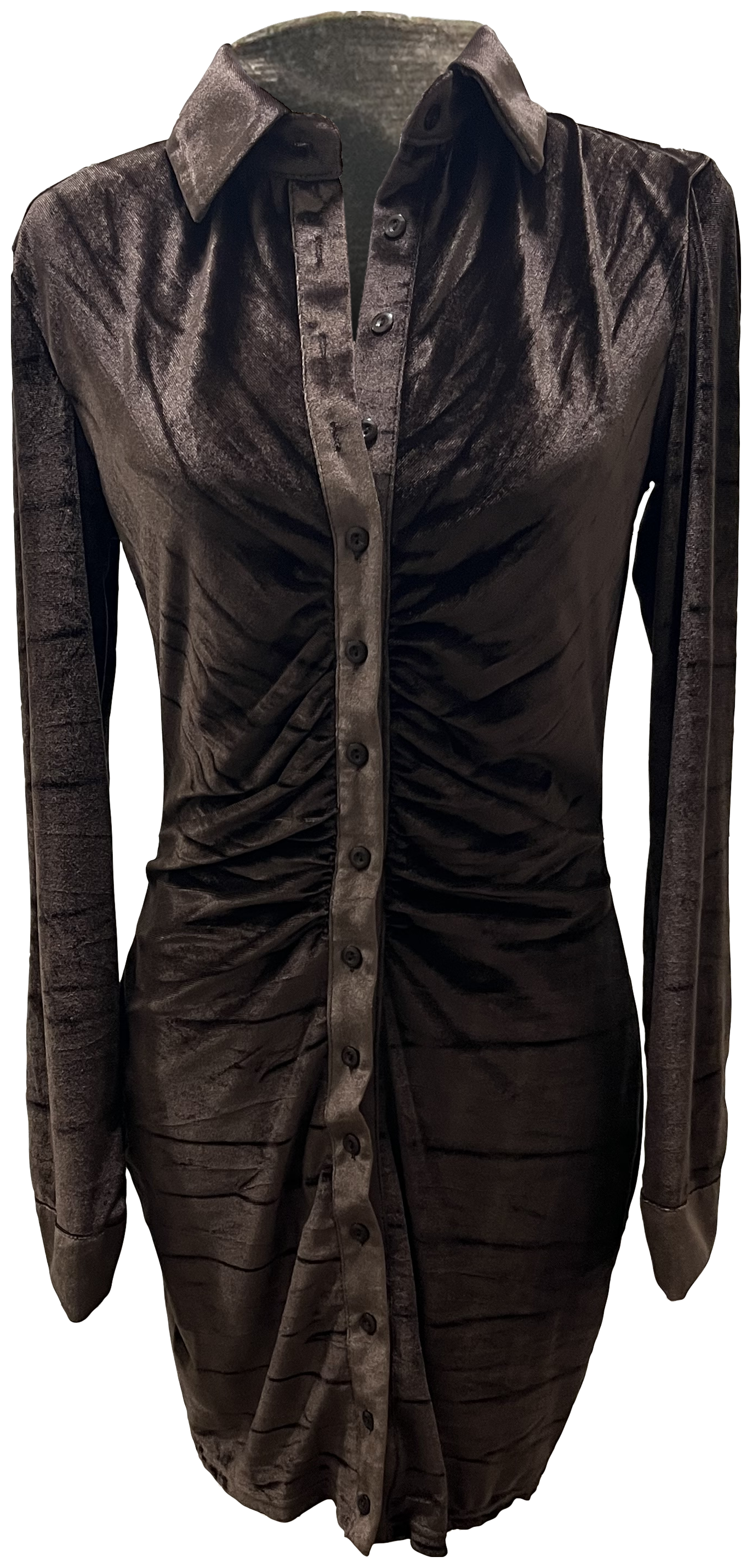 Cuffin Season | Velvet Mini Dress in Brown
Sale price
$25.00
Regular price
or 4 interest-free payments of $6.25 with:
 Introducing the Cuffin Season Dress – Where Elegance Meets Ease!
Ladies, it's time to embrace the season of coziness and style with the Cuffin Season Dress. This isn't just a dress; it's a statement, a mood, and the epitome of chic comfort. Whether you're strolling through autumn leaves or stepping into a cozy café, this button-down mini dress is your go-to choice for effortless elegance. Get ready to slay the fashion game with ease! 🍂👗
Elevate Your Wardrobe:
With its classic collar and button-down design, the Cuffin Season Dress brings a touch of sophistication to your everyday ensemble. It's the perfect blend of trendy and timeless, ensuring you look effortlessly chic wherever you go.
Velvet-Like Luxury:
Crafted in a sumptuous, velvet-like brown fabric, this dress is a tactile delight. It's soft to the touch and adds a touch of opulence to your autumn wardrobe, making you feel like a true style icon.
True to Size Comfort:
Forget the fashion struggles; this dress is true to size. It hugs your curves just right, providing a flattering fit that celebrates your natural beauty. Say goodbye to awkward fashion moments!
Low Maintenance, High Style:
We understand that you're busy conquering the world, so we've made care a breeze. Machine wash warm, skip the bleach, and either hang dry or use low heat. Easy, right? Your dress will be ready to slay again in no time.
Your Go-To Choice:
The Cuffin Season Dress is not just an outfit; it's a lifestyle. Wear it with confidence for a casual day out, a brunch with friends, or even dress it up for a romantic evening. It's your fashion canvas, ready for your artistic touch.
Embrace the season of comfort and style. Elevate your elegance, celebrate your curves, and make the Cuffin Season Dress your wardrobe essential. Get yours today and step into autumn with grace and confidence. 🍁✨ #CuffinSeasonDress #EffortlessElegance